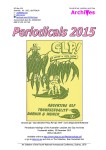 This list contains more than 1800 individual periodical titles held by the Archives, indicating all the issues for each title. A chronological list of key titles and a list of titles for which ALGA holds content indexes are also included. A pdf version is available free, online. You can buy a hard copy of the complete and updated list.
A$15.00 including Australian postage ($10 to ALGA members).
Ordering from overseas? Please contact us for shipping details.