edited by Yorick Smaal and Graham Willett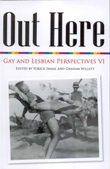 The sixth in the Gay and Lesbian Perspectives series, Out Here, is published by Monash University Publishing.
Most of the contributions were presented originally at ALGA's 9th Australian Homosexual Histories conference in Melbourne in 2009.
A$35 or A$30 to ALGA members, plus $7 postage within Australia.
Ordering from overseas? Please contact us for shipping details.