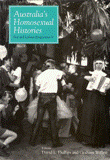 Edited by Graham Willett and David Phillips
An anthology of some of the papers from the first two conferences on Australia's Homosexual Histories.
Published by the Australian Centre for Lesbian and Gay Research and the Australian Lesbian and Gay Archives in 2000.
A$20.00 ($15.00 for ALGA members) plus $7 postage within Australia.
Ordering from overseas? Please contact us for shipping details.