by Roderic Anderson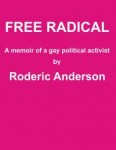 If you liked the films Brokeback Mountain and Good Night and Good Luck, now enjoy reading Free Radical, the story of Roderic Anderson's life from his joining the Royal Australian Air Force in 1943 to his sailing to Europe in 1962.
Free Radical deals with society, the social tableau, left-wing politics, manners and morals. It brings to life the 1950s, generally thought of as bland and boring. But they were interesting times—the start of the nuclear age, the end of the British Empire, the rise of anti-communism, the Australian anti-communist bill and the split in the Labor Party.
'Roderic Anderson had an interesting life, which he recalls with stunning and often insightful detail. He touches on a dizzying and dazzling assortment of topics and themes. Like a master conductor balancing his string and bass sections, Anderson trots his personal history carefully: no matter what he is describing, his images are vivid without being pretentious. Clear without being too simple. As a slice of sociological history, his story is inspiring and compelling.' Leonard Jacobs, Foreword magazine.
Published by the author, 2006. Paperback, 156 pages.
A$15 plus A$7 postage.
Ordering from overseas? Please contact us for shipping details.