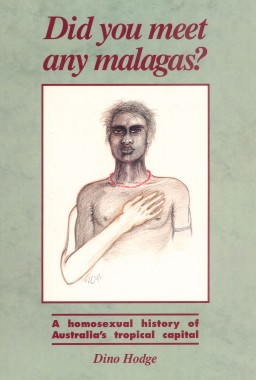 By Dino Hodge
'These conversations with thirteen gay men from the Northern Territory — including a priest, a hustler, the owner of a wine bar, political activists and the first Territorian diagnosed with AIDS — provide a vivid portrait of gay life in Australia's tropical Top End from the wild days of the Second World War to the present. Particularly interesting are the talks with and about Aborigines, Asians and Mediterraneans who form a significant component of the Territory's population.'
Associate Professor Robert Aldrich, Department of Economic History, University of Sydney, author of The Seduction of the Mediterranean: Writing, Art and Homosexual Fantasy, and editor of Gay Perspectives.
Dino Hodge is author of The Fall Upward (1996), documenting spiritual beliefs and practices of lesbian women and gay men, and Don Dunstan, intimacy and liberty: a political biography (2014). A theatrical presentation on Darwin's homosexual personalities, His Own Special Friend, premiered in 1993. It was adapted for performance in an international festival of one-act plays that was held in New York during June 1994 to mark the twenty-fifth anniversary of the Stonewall Riot. He is co-editor of a secondary school social studies text on Aboriginal education, You Don't Get Degrees in Weetbix Boxes (1994). Born and raised in Adelaide, Hodge lived for many years in the Northern Territory before settling in Melbourne. He has a PhD in history from the University of Melbourne.
Did you meet any malagas? was published by Little Gem Publications in 1993. 233 pages: illustrations, maps, portraits; 30 cm.
A$35 (A$30 to ALGA members), plus A$14 postage to Australian addresses.
Ordering from overseas? Please contact us for shipping details.