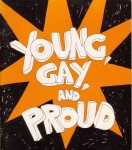 Education and outreach is an important part of the Archives' work. We do this work in lots of ways, such as welcoming researchers to the Archives, organising History Walks and conferences, and producing publications based on our collection. We see our education and outreach work being about everyone, not just specific groups.
Over the past few years, the Archives' educational and outreach work has involved bringing queer youth groups into the Archives and taking the collection out to regional queer youth groups not based in Melbourne.
The Queer Youth Education Project: Historical Education Based on ALGA's Collection provides workshops about Australian history to youth groups and school groups based on the Archives' collection.
The Queer Youth Education Project provides workshops at the Archives. It also takes the collection out of the Archives and runs workshops in other settings like youth services and schools. These workshops are provided to young people free.
For more information about the Queer Youth Education Project and the Archives' educational work, contact mail@alga.org.au.