The Australian Lesbian and Gay Archives Inc. is a nonprofit incorporated association funded through membership fees and donations. Thorne Harbour Health (formerly VAC) provides our current reading room space rent-free and we are grateful for their support.
The Australian Lesbian and Gay Archives Inc. is a deductible gift recipient under Australian taxation law: all donations of A$2.00 or more are tax-deductible. Send donations to PO Box 124, Parkville, VIC 3052 or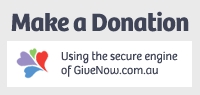 The Archives is extremely grateful for your support and we are happy to discuss ways of honouring your contribution through public acknowledgements or dedications.
There are opportunities to sponsor particular projects and events as well. You might also like to commemorate a loved one through your donation, which we are happy to arrange.
Making a bequest to the Archives in your will is a generous way to leave a legacy to the LGBTIQ+ community. We can provide advice and information to assist you in this.
We suggest that people who make the Archives a beneficiary in a will let us know that is the case, and provide us with their executor's contact details. It is not important for the Archives to know the details of a financial bequest, but it can be helpful, from a planning point of view, for the Archives to know the scope of a bequest relating to archival material.